Building Science
Enter to receive 25% off your job! We will deduct 25% off the first $5000 of your job (minimum of $1000 job estimate) for visiting us at the Lethbridge Home & Garden Tradeshow. Offer is valid until March 30, 2015. Please take some time to look through our site. We offer lots of information and videos all about Spray Foam Insulation. We would love to come give you a free quote. Thanks for coming to see us at the tradeshow.
Hard to Insulate Areas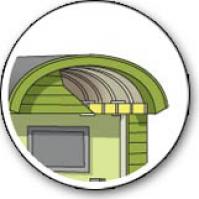 Many homeowners are incorporating designs or architectural features into their homes that pose insulation challenges, because conventional insulation; doesn't adhere well (or can settle over time); doesn't fit unusual cavities (batts are standard size); must be manipulated or compressed to fill unusual spaces (reducing R-value); or require extra finishing materials.
What's the problem?
Areas like arches, cathedral, domed or vaulted ceilings have limited space for insulation or make it difficult for insulation to adhere well (decreasing R-value and creating air leaks)
Many newer homes use steel framing which have "U" and "C" sections, double studs and non-standards stud locations that make insulating a challenge
What can you do?
Consider a product which can: create an air barrier by filling all gaps; stick to surrounding materials; and deliver ideal R-value all in one step
Look for insulation like Icynene that's ideal for steel-framed homes, by expanding to fill all (even unusual) spaces and voids that exist between metal stud wall systems
Related articles

Spray Foam Facts