Building Science
Enter to receive 25% off your job! We will deduct 25% off the first $5000 of your job (minimum of $1000 job estimate) for visiting us at the Lethbridge Home & Garden Tradeshow. Offer is valid until March 30, 2015. Please take some time to look through our site. We offer lots of information and videos all about Spray Foam Insulation. We would love to come give you a free quote. Thanks for coming to see us at the tradeshow.
Stopping Drafts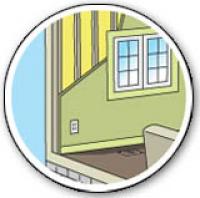 Up to 40% of energy lost by a home happens through uncontrolled air leakage. Air leaks are a big energy waster and can lead to comfort, moisture and air quality issues.
Whats the Problem?
Without alot of extra labor its hard to stop all air leaks with conventional insulation and materials, especially in hard to insulate areas.
Over time conventional insulation can sag or settle, leaving gaps and decreasing R-value
When outdoor air leaks into a home, the furnace or air conditioner must work harder to maintain the desired indoor temperature, wasting energy and money
What can you do?
Use weather stripping, plastic window film, caulking, foam in a can (choose the right one for each application) and electric outlet insulators to help control some of the most obvious leaks at minimal cost
Consider a soft-spray foam insulation/ air barrier system as a whole home solution to air leaks, especially for new homes and renovations, whick can deliver up to 50% in energy savings