Building Science
Controlling Moisture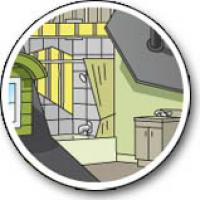 Why is moisture control any concern of insulation? Up to 99% of the moisture moving through the walls of your home is actually carried by air, insulation that controls air movement can help manage moisture and create a healthier home.
What's the problem?
If moisture carried by air is allowed to move through your walls it can condense within the walls leading to moisture and mold problems
Moisture can build up inside your home through daily activities like cooking and showering
If hot humid air leaks into a home, the air conditioner must work harder to remove the humidity, increasing cooling costs
What can you do?
Minimize air movement by using an insulation/ air barrier to stop moist air from condensing inside you walls, along with mechanical ventilation to bring in fresh/ filtered air and to help get rid of excess airborne moisture