Building Science
Enter to receive 25% off your job! We will deduct 25% off the first $5000 of your job (minimum of $1000 job estimate) for visiting us at the Lethbridge Home & Garden Tradeshow. Offer is valid until March 30, 2015. Please take some time to look through our site. We offer lots of information and videos all about Spray Foam Insulation. We would love to come give you a free quote. Thanks for coming to see us at the tradeshow.
Airflow Around Openings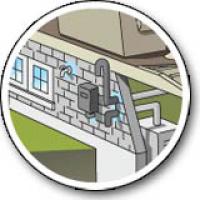 Openings around plumbing, vents and electrical service entries are responsible for 17% of the air leakage in our homes that inflates our energy bills (Source: U.S. Department of Energy).
What's the problem?
Holes made for plumbing, venting and electrical service are natural air leakage areas that are hard to fill with conventional fibrous insulation
Cold water pipes (that provide service outside) are also areas of moisture problems, when uncontrolled moist air moves around them and is allowed to condense. See Rim Joists for an example of a common problem area
What can you do?
Use expanding spray foam insulation to seal gaps surrounding plumbing, venting and electrical openings. Use foam in a can products for small jobs or an expert-installed open-cell spray foam insulation/ air barrier for new homes/ renovations
Where accessible, consider insulating cold water pipes to prevent condensation