Building Science
Enter to receive 25% off your job! We will deduct 25% off the first $5000 of your job (minimum of $1000 job estimate) for visiting us at the Lethbridge Home & Garden Tradeshow. Offer is valid until March 30, 2015. Please take some time to look through our site. We offer lots of information and videos all about Spray Foam Insulation. We would love to come give you a free quote. Thanks for coming to see us at the tradeshow.
Insulating the Attic/ Roof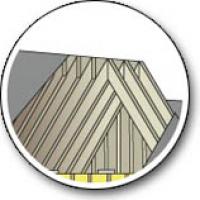 Homes lose a lot of energy when warm air inside rises and leaks into attic space. Adding insulation to reduce energy loss can make sense, especially when it can address air leaks and provide an air-seal.
What's the problem?
Conventional insulation, such as fiberglass and cellulose, doesn't meet air barrier standards (based on air permeability testing, ASTM E 283) so it doesn't do a good job of stopping air flow/ leaks and can sag or settle over time
The cost of adding insulation thickness (R-value) outweighs the savings after a certain level
Rafters in cathedral or vaulted ceilings may have limited space for insulation
What can you do?
Seal all areas where air can leak from the home, including electrical entries (subject to local building code standards)
Seal and insulate attic access doors
Consider an open-cell spray foam insulation to create an air barrier against air leaks and achieve optimal R-value in one step. Spray foam insulation can also be a solution to challenges like cathedral ceilings