Building Science
Enter to receive 25% off your job! We will deduct 25% off the first $5000 of your job (minimum of $1000 job estimate) for visiting us at the Lethbridge Home & Garden Tradeshow. Offer is valid until March 30, 2015. Please take some time to look through our site. We offer lots of information and videos all about Spray Foam Insulation. We would love to come give you a free quote. Thanks for coming to see us at the tradeshow.
Bonus Room- Floor of Room over a Garage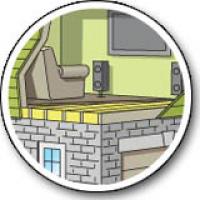 One of today's most popular home features is the bonus room over the garage or porch that's often converted into a media room or extra bedroom. They offer great functional space, but are often uncomfortable. In cold climates, floors can be 10 degrees F cooler than the room.
What's the problem?
It's almost impossible to keep conventional fibrous insulation in contact with the floor above (when insulating the garage ceiling)
Due to voids and air spaces, fibrous insulation may not perform to its rated R-value
Gaps in the insulation allow exterior air, exhaust fumes and odors to penetrate from the garage or exterior
What can you do?
Insulate the garage ceiling (underside of bonus room's subfloor) with an insulation/ air barrier system like Icynene to minimize air leakage, potential condensation problems and air quality issues
Make sure temperature-sensitive utilities, such as water pipes, drains, or ducts, are kept within the insulated, conditioned space